"I can say without sentimentality that to stand in the midst of the virgin rain forest and to think of the incredibly intricate forces which have produced such luxuriance of plant life, is to become a humble skeptic."
My grandfather, Adriance Foster, writing from Belem in 1948
---
At home in central Austin, I walk out the front door and stand squarely within what most ecologists refer to as Blackland Prairie, though on my street the landscape displays a more brutalist mix of asphalt, concrete, and architectural atrocities. Prior to agricultural intervention, the prairie was a sea of grass running in a strip from the Red River to San Antonio, right through our section of town. As settlers moved in, the grass was cut to make hay, then the soil was plowed to farm. These days less than one percent of the ol' Blackland remains unpaved or unplowed, but the resultant morphing of the land is a graphic reminder of regional and local history.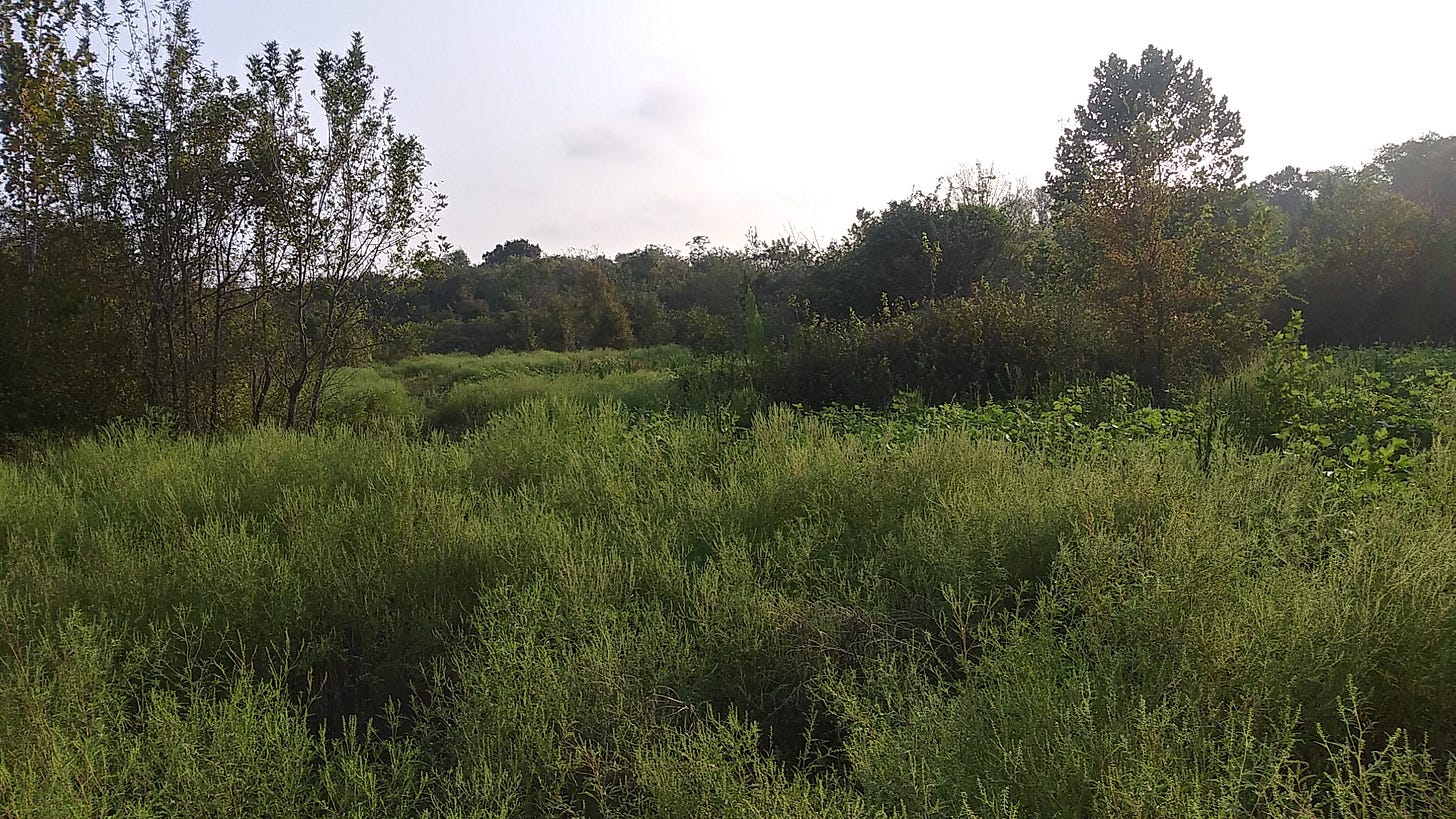 South of my present location, thirteen miles down Interstate 35, lies Onion Creek Metropolitan Park, over 550 acres of former prairie, mixed with riparian and woodland ecological communities, all modified by generations of agricultural practices. Sans recent human habitation, the land is "re-wilding," with a lovely reticence towards any immediate development. The result is a unique space for hikes that consistently inspire and surprise. The city-owned park is slated for eventual transformation into an eco-entertainment zone, but at present, with a little curiosity, you can explore freely while interpreting the land's ecological and geographical history.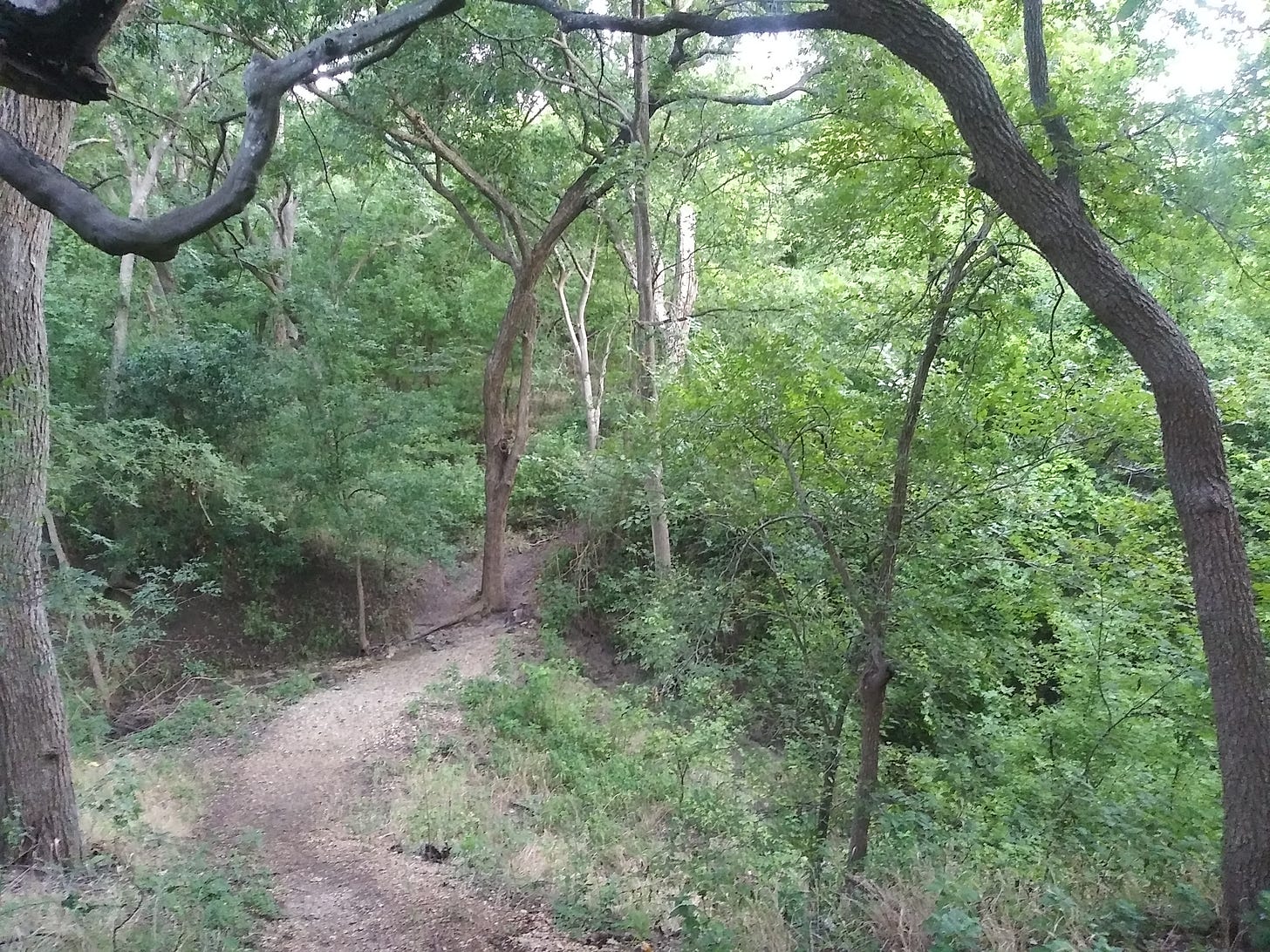 Entering the park from a dirt lot on its southern extreme, you are greeted with a thick canopy of trees and brush. Cedar elm, buckeye, and oaks are abundant. A lone trail provides access. Well-worn, it soon forks, offering choices. No maps or sign posts are available so whimsy is your guide. In this wilderness you learn as you go, giving up some control to enjoy a freedom to wander without expectations. We typically arrive in the early morning with the woods still awaiting the first rays of sunlight. Some of the trails lead us to dead-ends. Backtracking and trying other splintered paths is part of the adventure. From woodlands to prairie, the paths pass through a diverse array of flora and, equally tantalizing, offer clear evidence of centuries-old human use and occupation.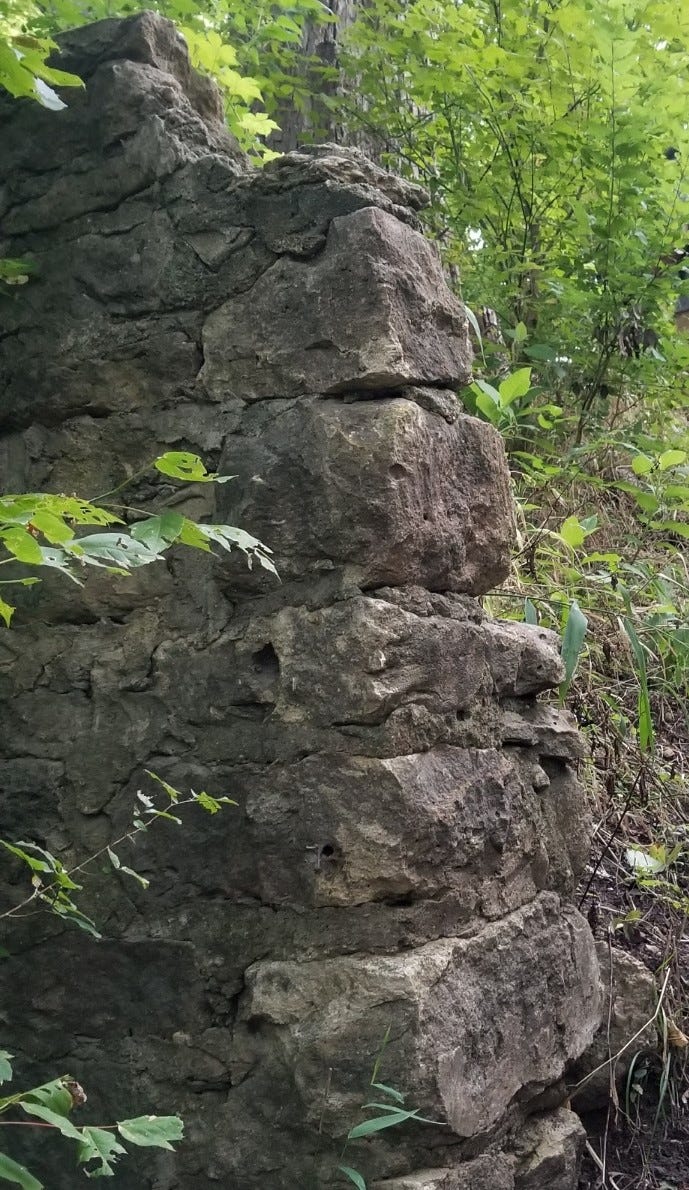 As you wend through the thick growth, you catch glimpses of previous homesteading. Straight cedar fence posts, barbed wire, and cut stone walls are at hand. Early construction hardware, such as mid-19th century square head nails, are not uncommon on the trails or in the posts. Research and land records point to occupation by European settlers as early as the 1830s.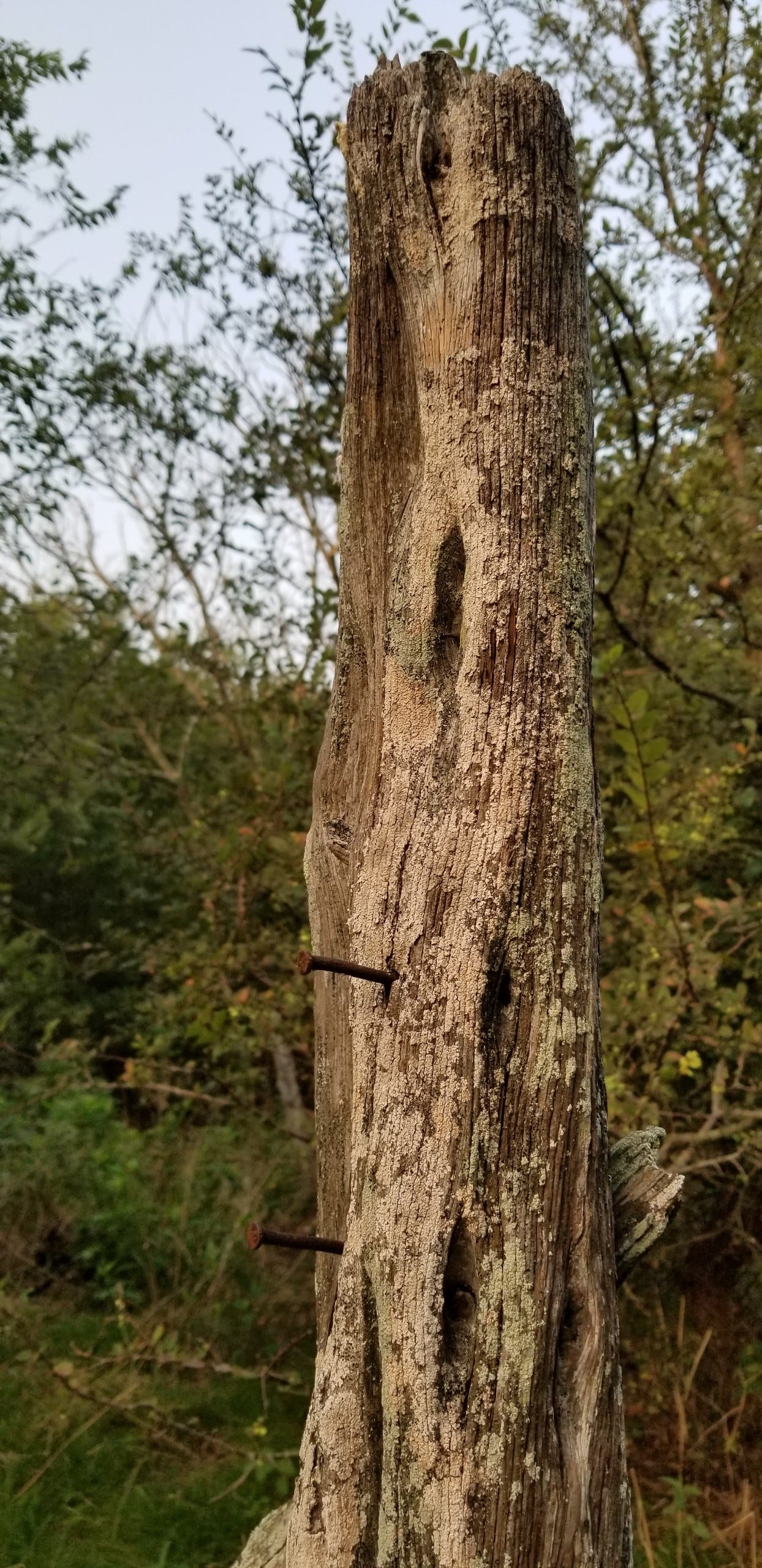 This land was originally part of the Santiago del Valle land grant. A portion of the grant was purchased in 1839 by Thomas McKinney who established a 40,000 acre ranch in Travis County, some of which is now McKinney Falls State Park, just downstream from Onion Creek Metropolitan Park. Other parts of the purchase were partitioned and developed into the communities of Creedmoor, Pilot Knob, and Bluff Springs, all with records of frontier settlements. The park area contains evidence of such early homesteading and an aerial photo from 1940, courtesy of the Travis County Historical Commission, provides visual documentation of 19th-century structures as well as subsequent land use practices.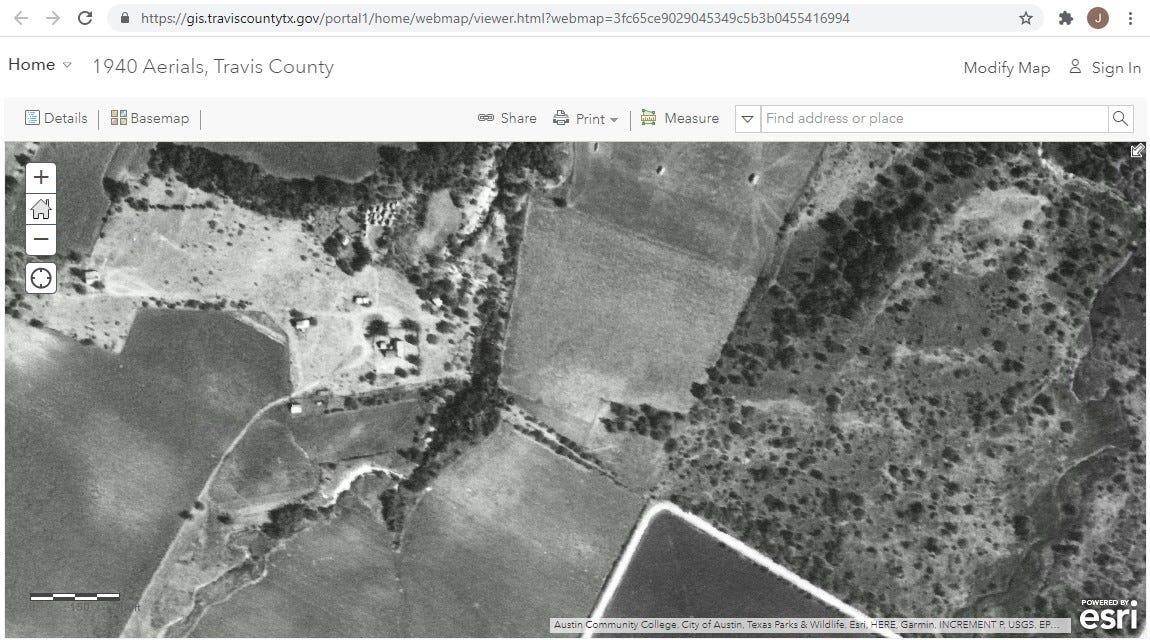 Eighty years later, the cultivated areas are long gone. A Google Earth view offers a comparative view of this transforming landscape.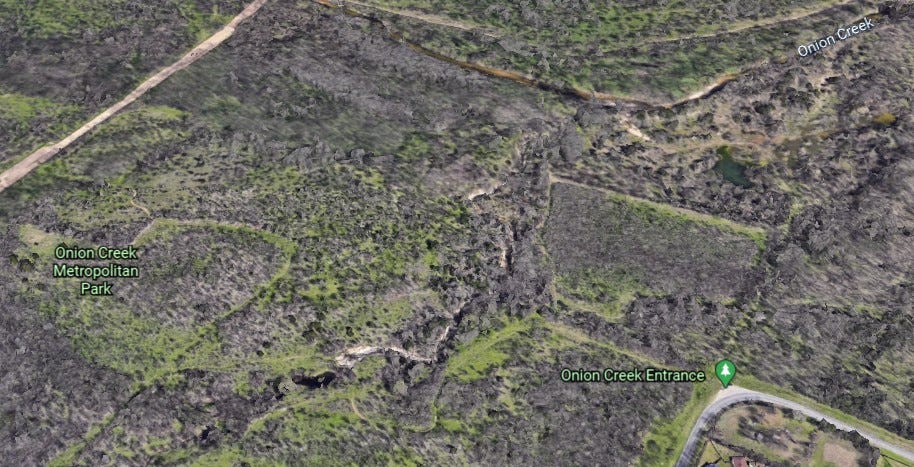 These days, going off trail in the park, you can uncover evidence of the early structures, which includes a deep in-ground lined cistern as well as cut stone ruins of former buildings. North of the ruins, on a ridge line, are remnants of recent renegade archaeological exploits, with modern-day prospectors looting the land for arrowheads and other stone tools used centuries ago.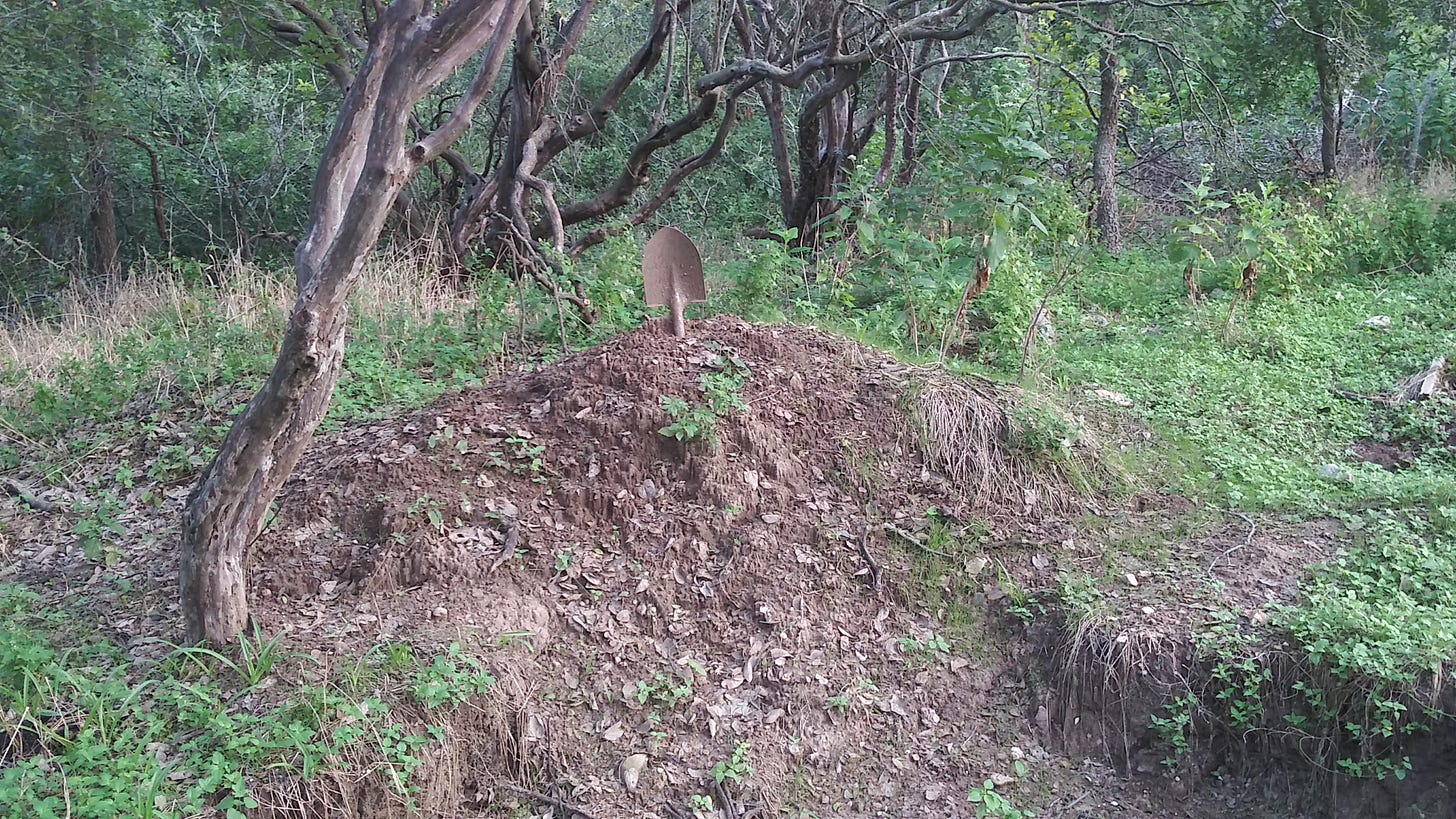 Areas farmed in 1940 are under new growth. This post-cultivation emergence of flora is an unplanned reclamation. It is not a return to the virgin prairie, but rather an informal introduction of opportunistic plants. As an example, land just west of the homestead, under plow in the 1940 aerial photograph, is now forested, with trees leaning, twisting, and growing into each other in a crazed dance.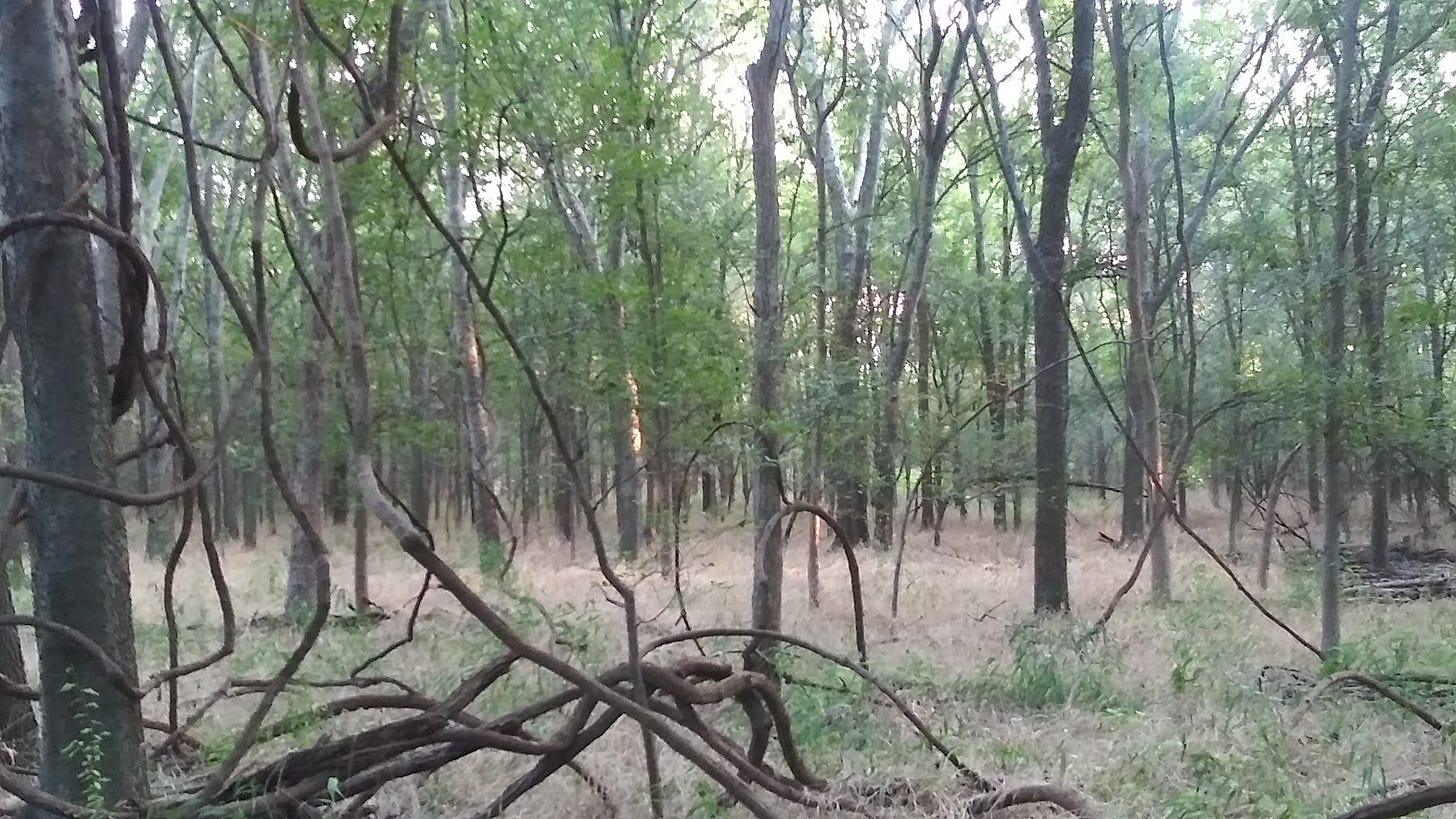 As you wander in the park, some trails lead unexpectedly to the creek and a riparian wonderland. Standing on the bed of Onion Creek, awash in its abundant flora, I reflect on all the life this area has supported and experienced. From hunter-gatherers foraging the land to frontier homesteading still in evidence to family farming eighty years ago, the story of the park is held within the history of its land use. As the stories take hold, it is natural to echo my grandfather and agree that intricate forces are indeed at work.