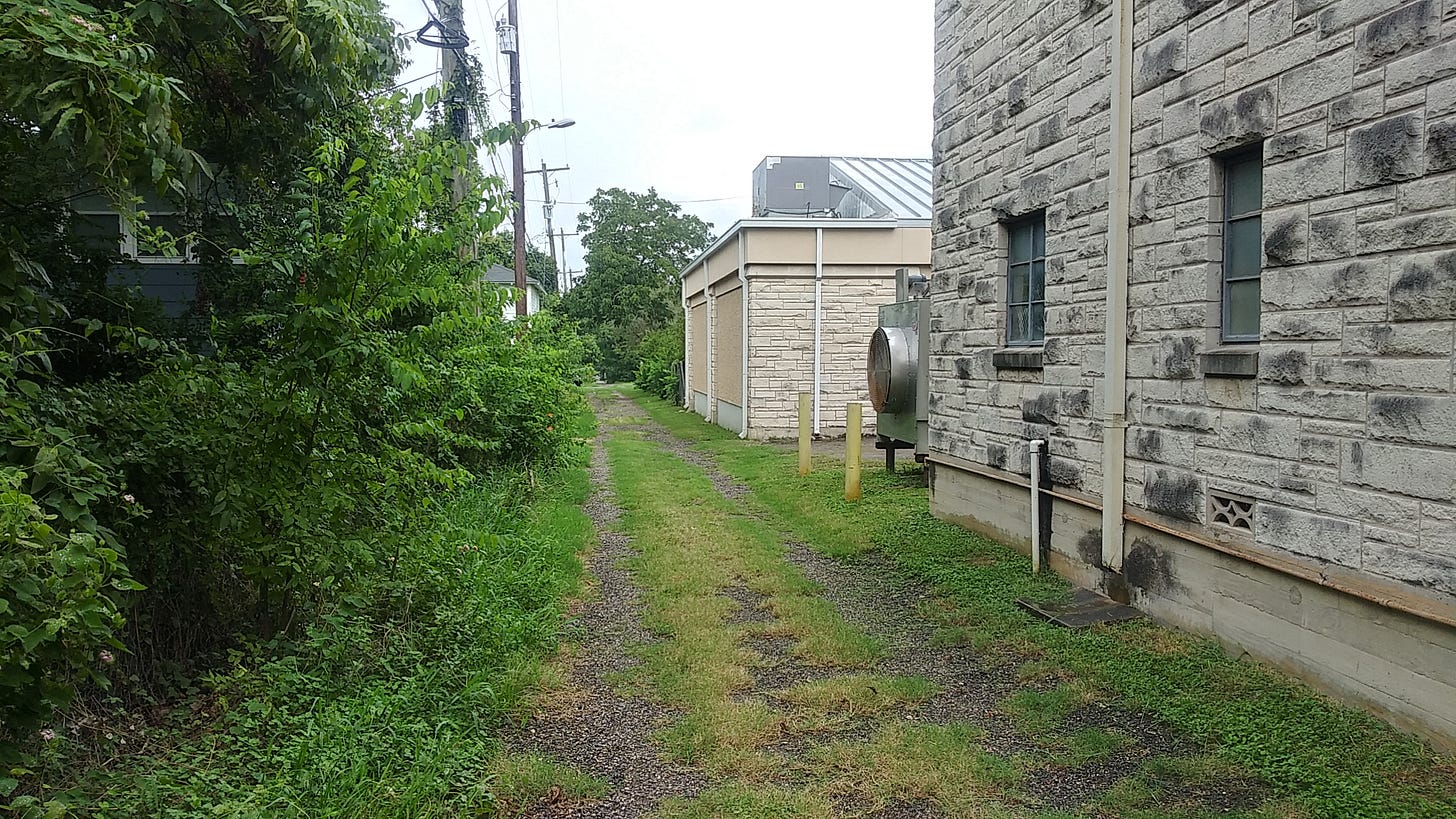 In early April 2020, as the pandemic began to take a strong hold in Austin, my pal Kirby, a trainer working out of the old-school Hyde Park Gym, texted me with a simple mantra: Stay In Motion. This slogan has grounded me over the past several months as Kim and I embark on weekday early morning walks, covering upwards of 70 miles per month, all originating on foot from our home. Part of this process is purely physical, with the "where" of the walk less important than the step-by-step act. However, depending upon the route taken, some walks are just more engaging than others. Part of the process of staying motivated is finding those routes hidden and lesser traveled, even if just in our neighborhood.
When you exit our front door in central Austin, a quick left lands you on a three block-long alley heading south. Upon our move to this home several years ago, the magic of this alley centered on the fact that by taking it to its southern terminus, you were greeted with the entrance to the Draught House, a local watering hole. Many an evening were spent strolling down and slowly weaving back through that alley.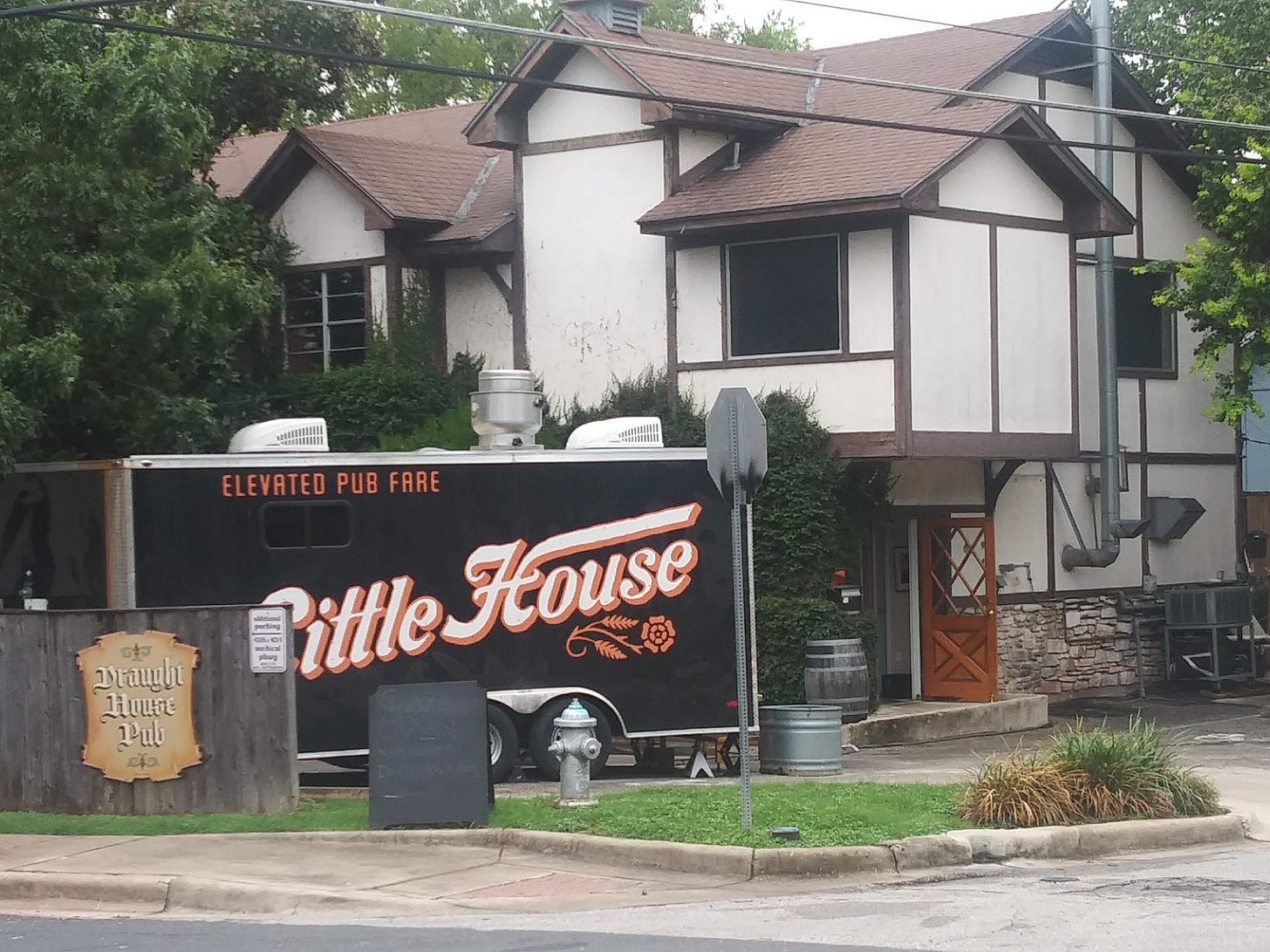 As the pandemic hit and our local pubs limited or closed their service, the alley became less a path to pints and more often a starting point for the weekday walks. Additionally, with neophyte natural history interests, the alley provided a convenient local campus for observation. Unkempt, the alley is full of plants that gain root, thrive, and are accessible to study. Using available guides, we have embellished these walks with exercises in plant identification. On an early foray, I identified a Big Muhly (Muhlenbergia lindheimeri), also know as Lindheimer's muhly, named after Ferdinand Lindheimer, the Father of Texas Botany. Lindheimer was a true character (part scientist, part German-language newspaper editor in New Braunfels) whose adventures are recounted in Naturalists on the Frontier, a strange, fascinating account of scientific explorations of the Texas frontier.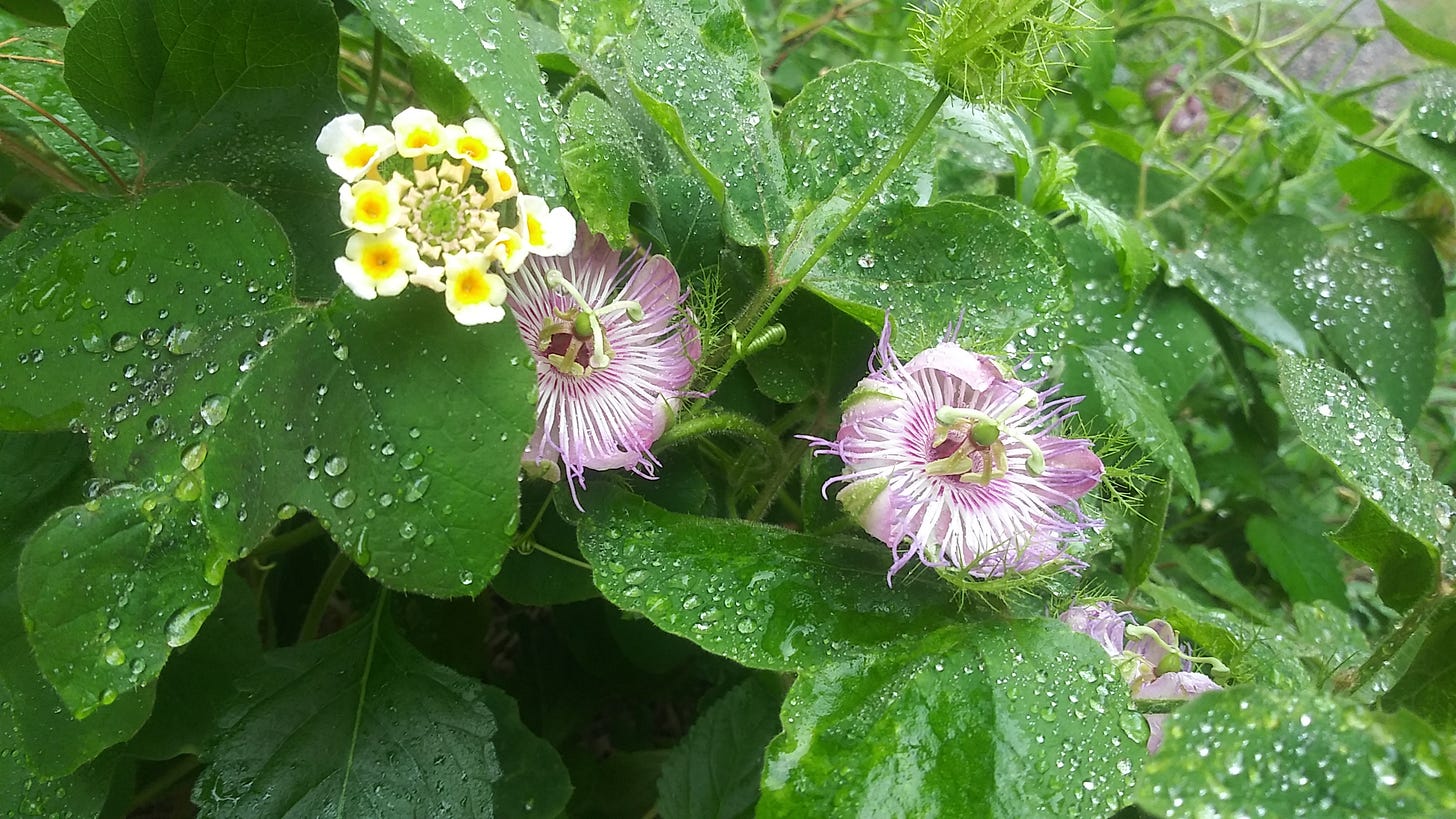 Careful observation within the alley opened my eyes to the incredible diversity and wealth of plant life just steps from our door. As its own ecosystem, free from systematic planning, the alley possesses a rich abundance of flora. Passion Flower, Lantana, and Trumpet Vine all thrive alongside native grasses. Of course, alleys also hold remnants of clandestine human behavior and there is no shortage of unusual detritus. In the alley, it's often 'out of sight, out of mind.'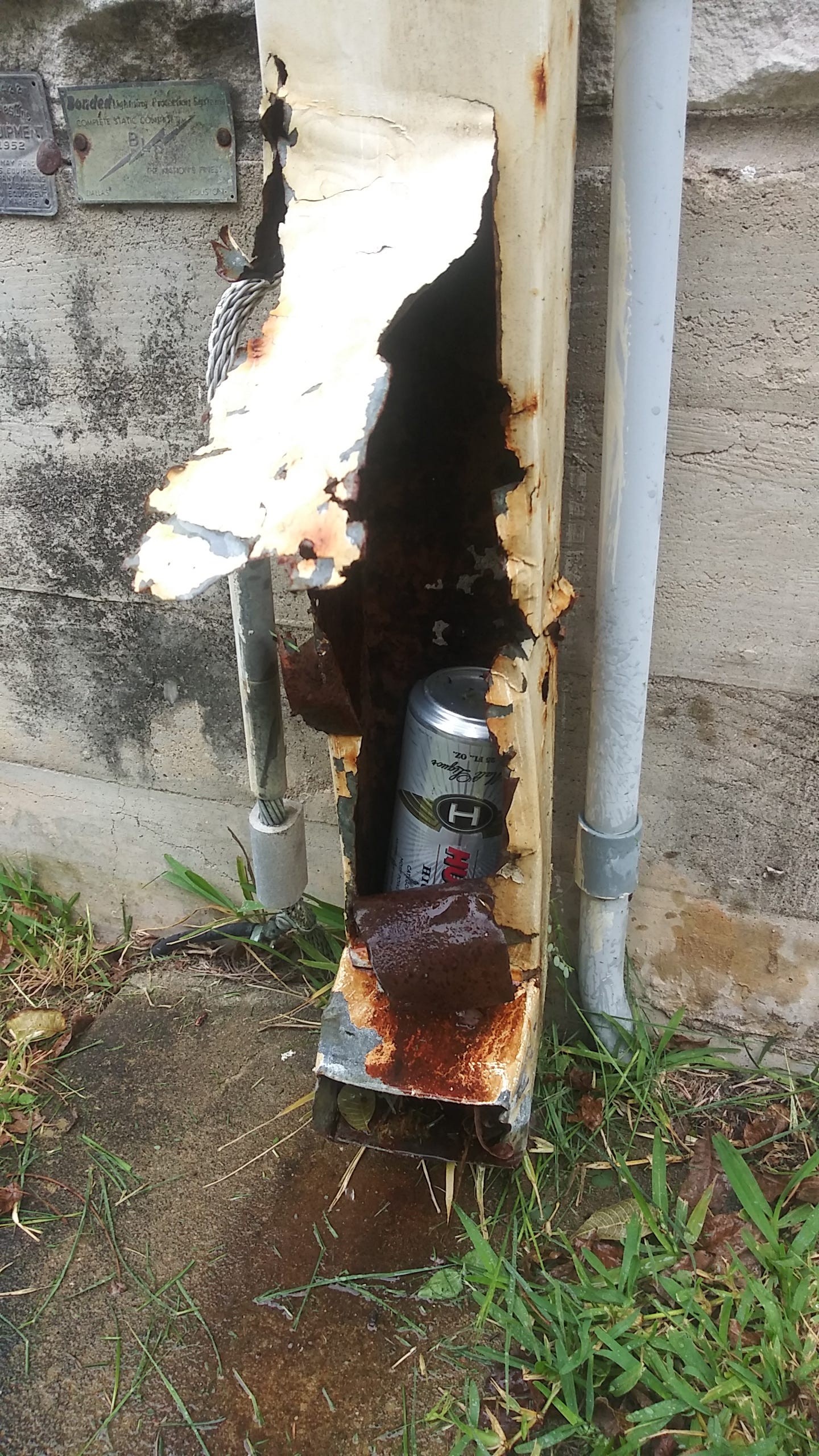 These days the pub is not on our regular itinerary, but if you hang a right when leaving the alley and continue through the neighborhood for a few blocks, you dead-end above Shoal Creek Boulevard, where with a little poking about you can find a discrete dirt path and stone staircase nestled among some Turk's Cap in the space next to an undeveloped lot. The staircase leads downhill to a limestone wall, dropping off just south and east of the Texas State Library building on Shoal Creek.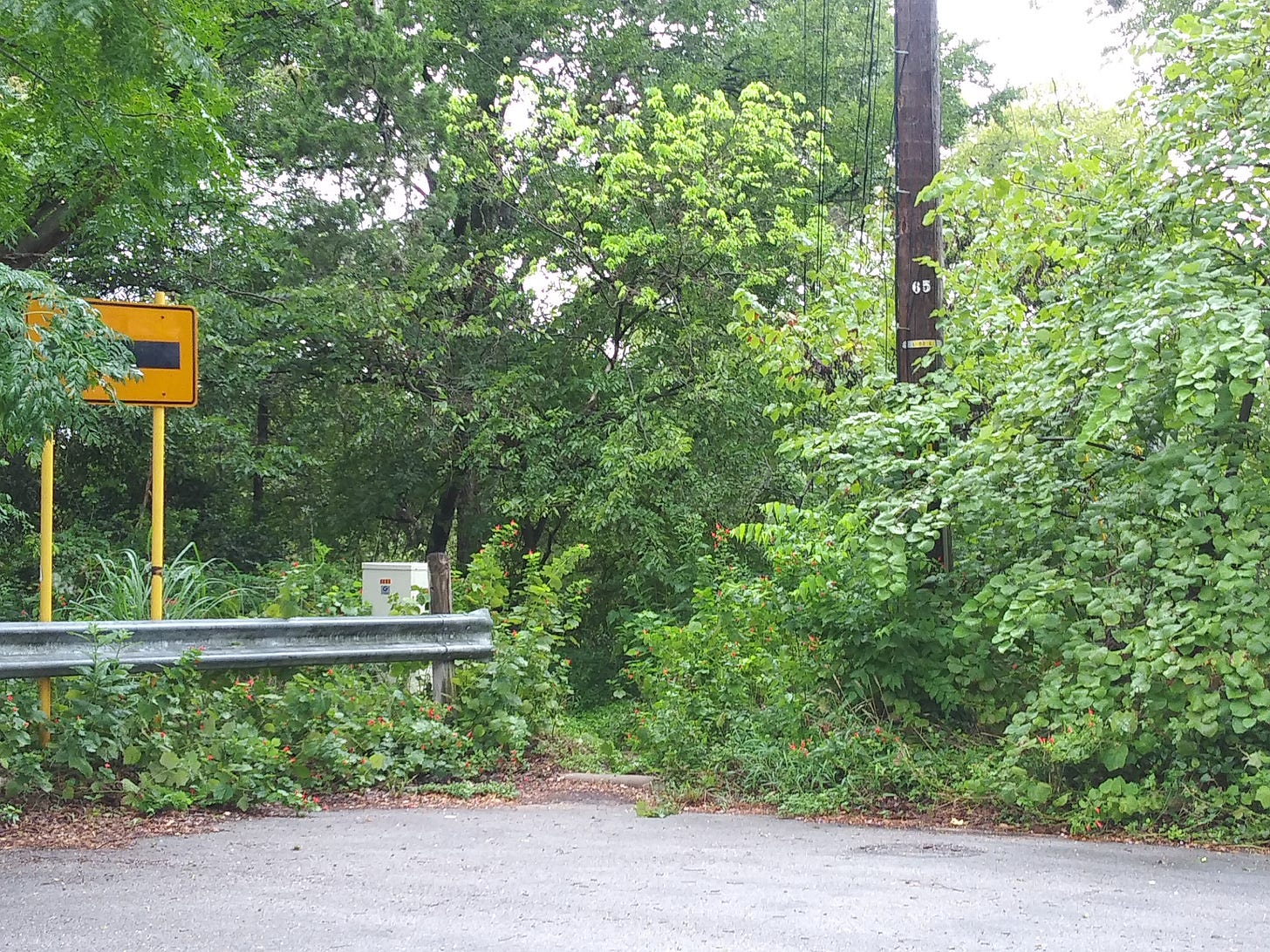 From the open field at the edge of the library & records management building, renegade paths weave through the brush and trees bordering the creek. These short trails lead to the creek bed, where I startled a beautiful egret on my initial visit. While we've never seen anyone else wandering in this area, it appears heavily trafficked as the trails are well-worn and there are areas of underbrush cleared for gatherings with make-shift seating areas.
Exiting the labyrinth to the north leads you to an asphalt drive that sits atop the steep eastern embankment of the creek. From here you can almost imagine being out of the city center save for the massive construction that peaks above the western ridge of the creek and announces that The Grove, "a vibrant mixed-use community", is encroaching.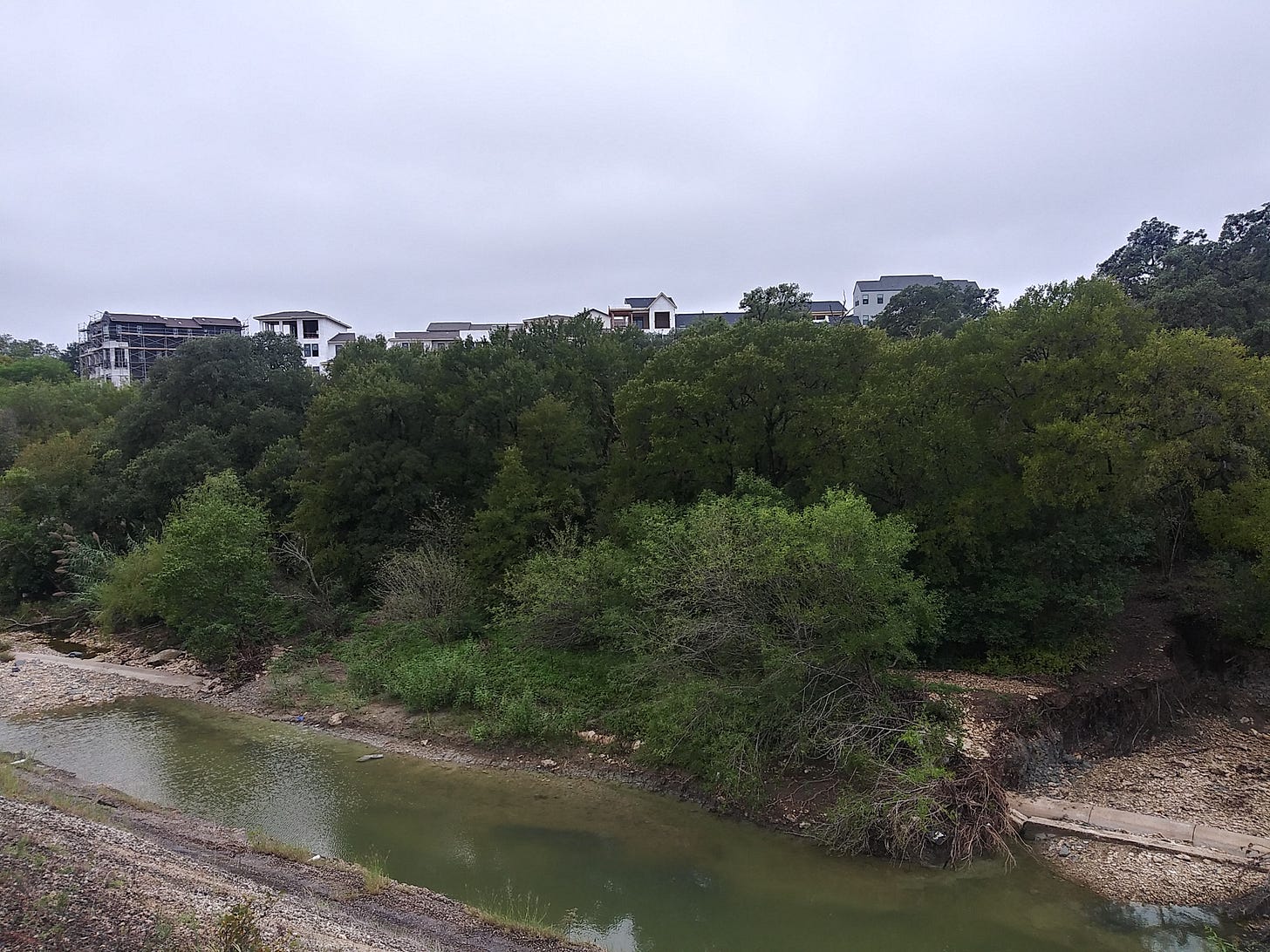 This project slowly grinds towards fruition. Their website promotes Outdoor Living, with access to "pocket parks" and manicured green space in a "refreshing reboot" of the neighborhood. Will our favored routes be compromised? For now, the wild area remains close by, offering us a respite from both the pandemic and the continual reshaping of the neighborhood. Will they pave paradise and put up the parking lot? Can we welcome the change?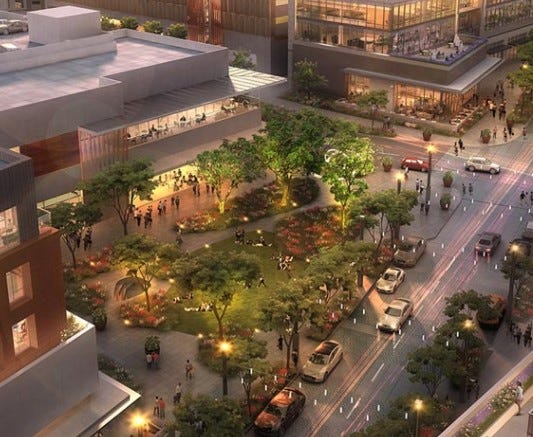 "You can't sit around and cry because they cut down some trees and pave everything. Concrete is radical. Concrete is the future. You don't cry about it, man, you skate on it."

- skater Bobby in Lewis Shiner's 1990 novel SLAM
As we climb up to the street and out of this local oasis, we are back on paved sidewalks leading us home. We appreciate the necessity of adapting to the changes, but we are steadfast in our search for future hidden paths and fresh routes, looking to stay in motion off the concrete.