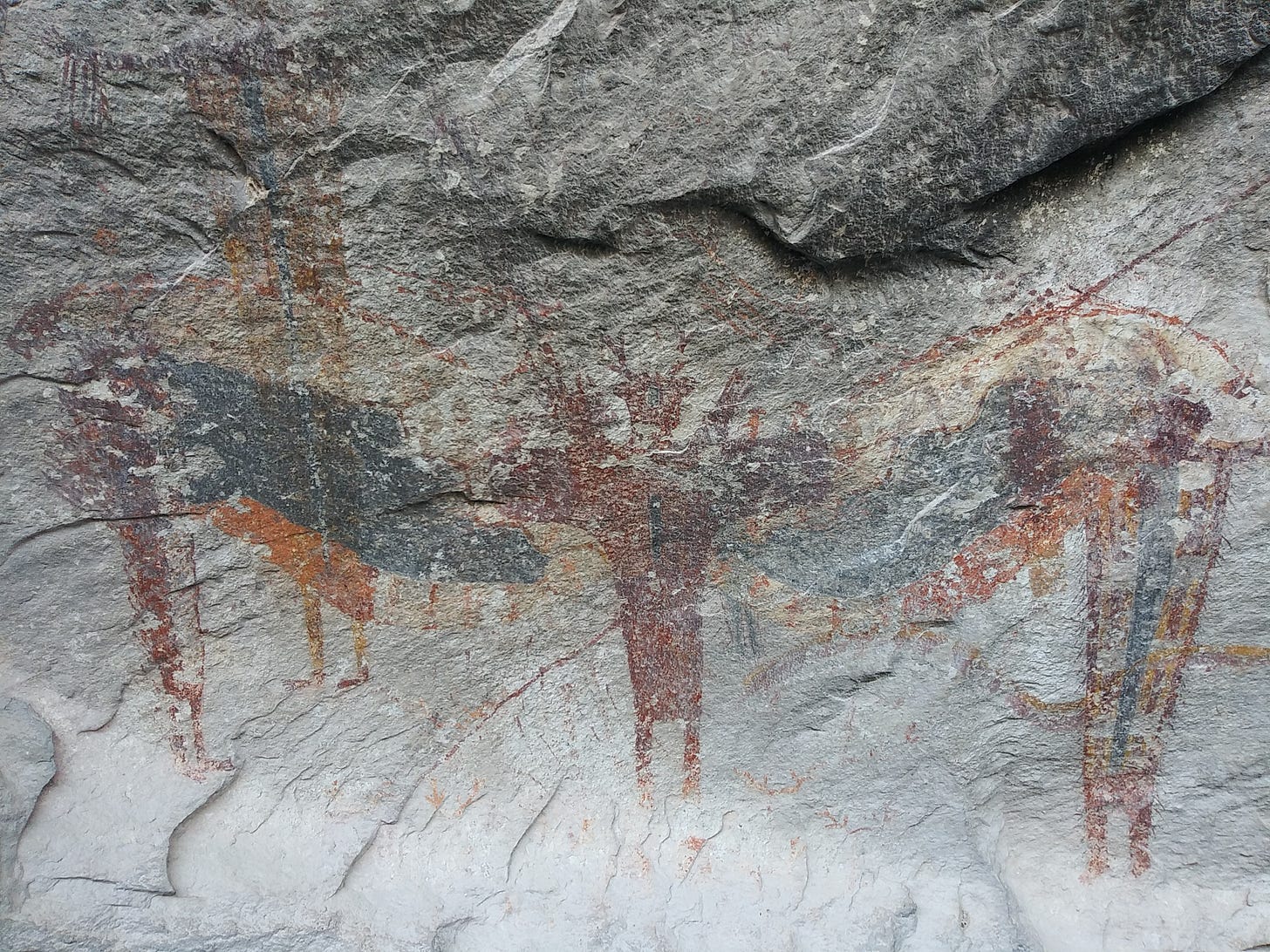 It was still dark when we pulled out of the driveway, set to head west, up and over the escarpment. This was a road trip, a respite from the necessary monotony of life in a pandemic hot spot. Masked up, with a cooler of food and drink, we plotted our way out of central Texas. Do we use RM 165, aka the Henley Cutoff, to get to 281, then wend west through Sisterdale? Do we instead take River Road out of Blanco to Grapetown, then south to Comfort? We almost always prefer these back roads, but on this trip we stuck to Highway 290, breezing through Fredericksburg at sunrise, to land on I-10 just east of Junction.
Kim and I were en route to Seminole Canyon State Park, located outside Comstock in Val Verde County. Since reading about the prehistoric pictographs in the region, this area sparked our imagination. We passed by the park in June, on a return route from Fort Davis, and were struck by the dramatic landscape, including the stunning Pecos River High Bridge. We vowed to return to explore the area in more detail and this trip was making good on that promise.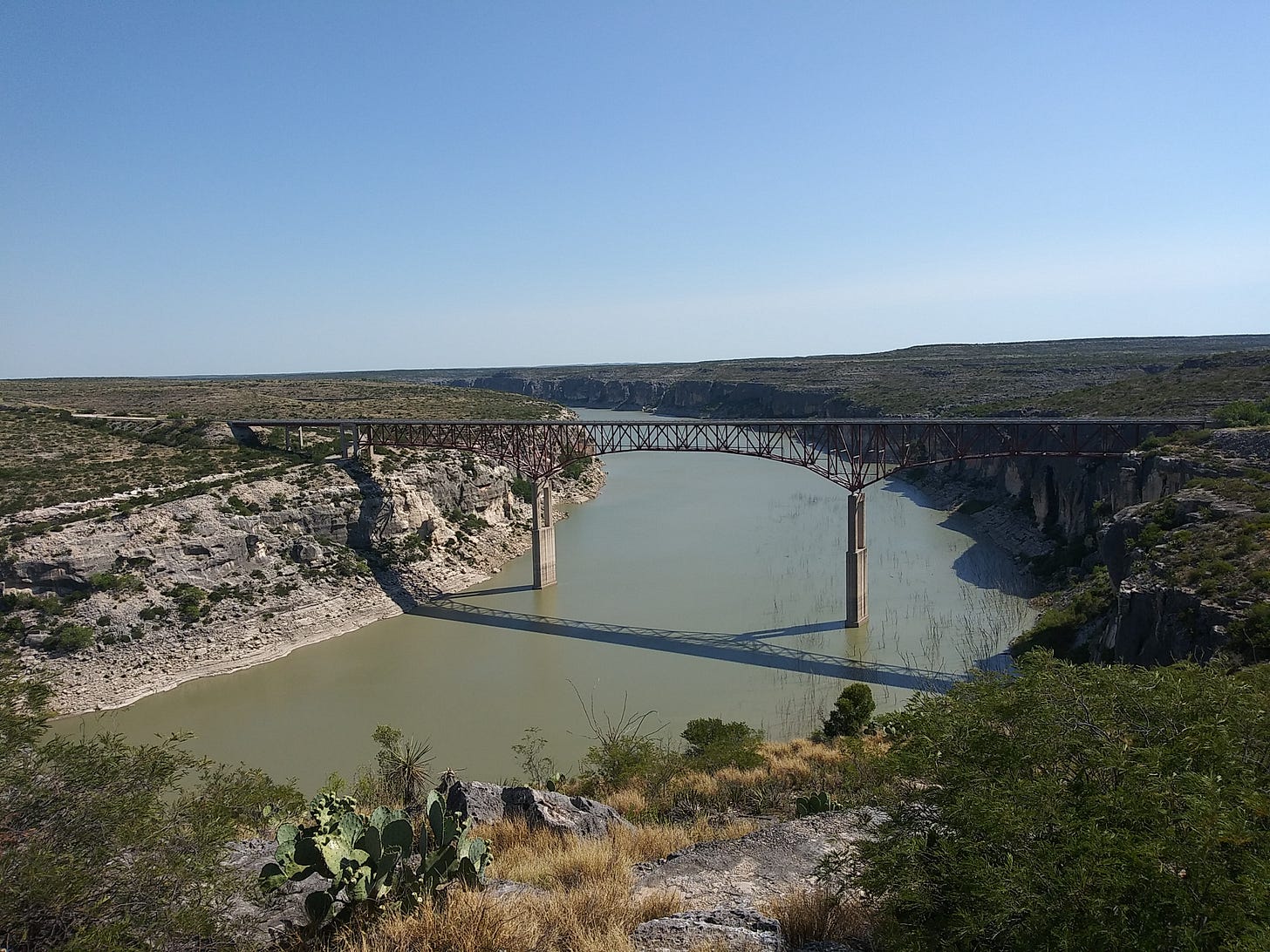 We were less than an hour outside of Comstock, rolling out of Ozona down Highway 163, a two-lane blacktop that heads south to Highway 90, when we slid by the deserted town of Juno. Last inhabited in 1992, and now very much returning to the land, what remains of Juno is fenced off, leaving the structures to fade towards obscurity. This town was once a frontier supply center, complete with a general store, post office, cafe, and schoolhouse. It is now a ghost town, short on inhabitants, but remaining a part of the weird and wild history of West Texas.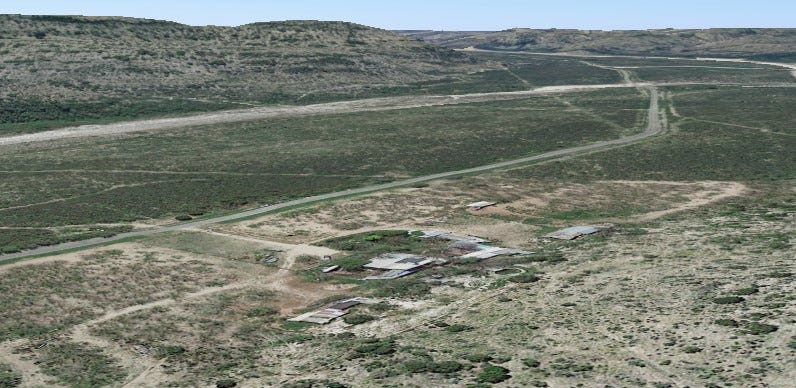 Soon after Juno, the Devils River makes an appearance, its pristine nature defying its name. Close to Dead Man's Pass, a fox strolled across the road mid-day. There was little traffic, with the few vehicles spotted seemingly headed to construction sites for the nearby Permian Highway Pipeline. Cenizo (Purple Sage) was blooming in wild abandon. Out on this plateau, entire hillsides were bursting with the blossoms, a colorful display that awed us, the land awash with a purple hue.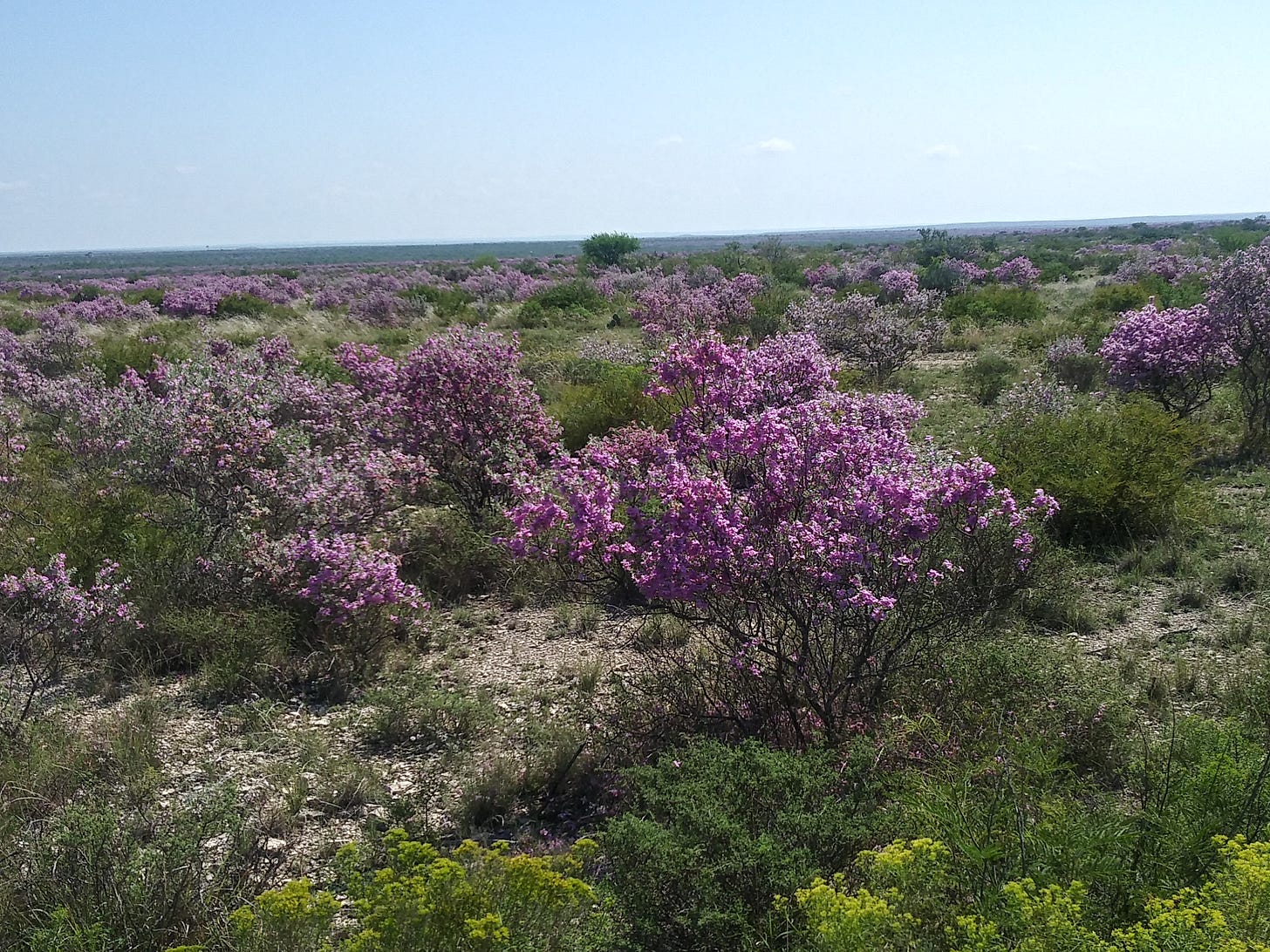 Arriving at the state park, a ranger related that the sage outburst was not uncommon since there had been recent heavy rains, but she concurred that this episode was particularly dramatic. She mentioned she'd even seen an "albino" specimen, a plant with all white blossoms. Now in commercial propagation, this version is known as "White Cloud," but remains scarce in the wild. We made note to keep an eye out for an example as we wandered the park.
Seminole Canyon is at the edge of the Edwards Plateau, the limestone eroded by rain and wind to create a canyon with rock shelters, or caves, lining the walls. Heading down a short trail to the Fate Bell Shelter, named after a previous land owner, the landscape appeared almost lunar in its starkness. This shelter contains evidence of over 8,000 years of occupation and is home to some of the best preserved pictographs of the Pecos River style.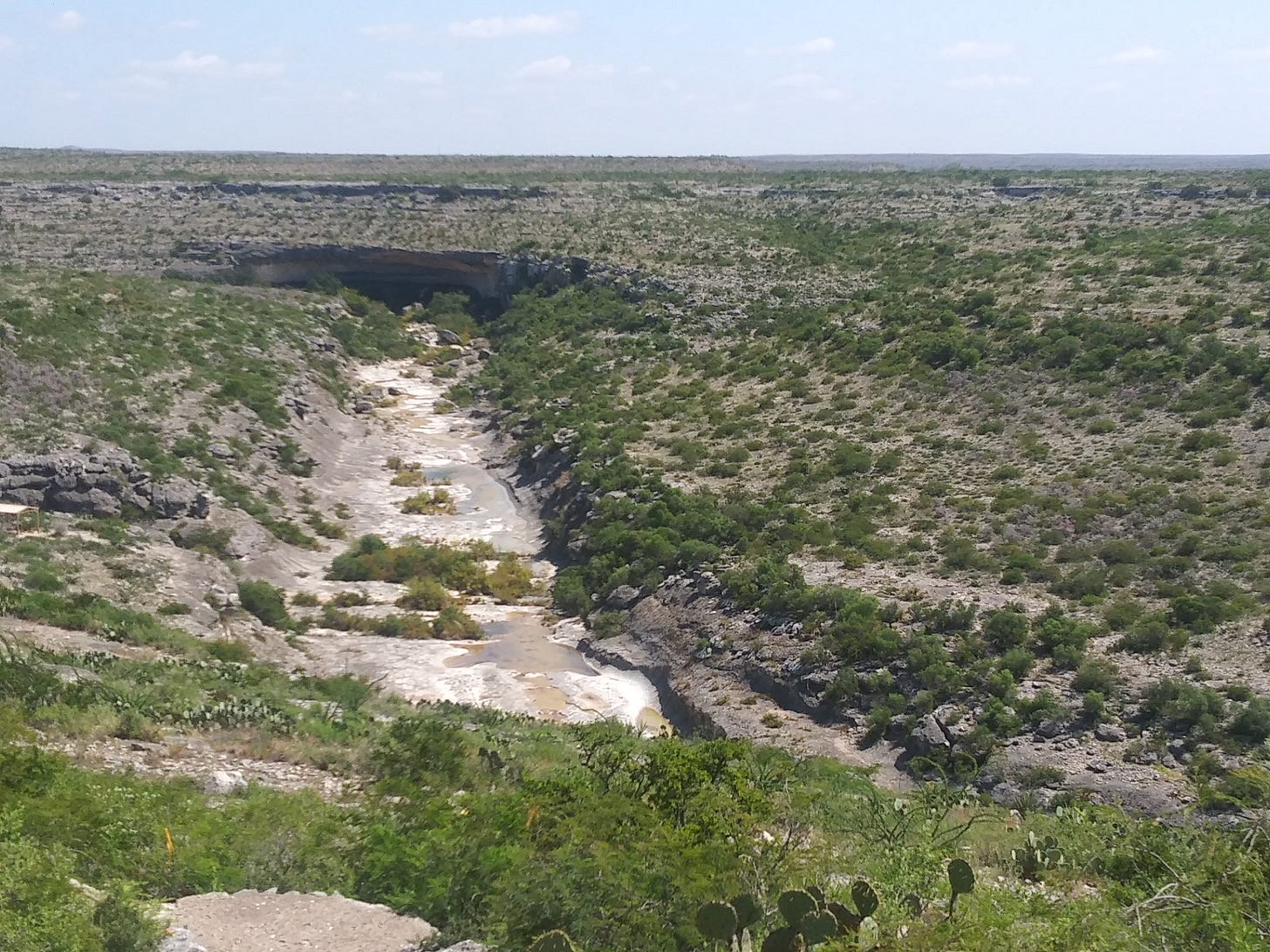 Our afternoon visit was brief and we retired to our room at the Comstock Motel, the sole place to stay nearby. This no-frills joint was clean and comfortable. We prepared food, had a few drinks, and paid particular attention to the house rules.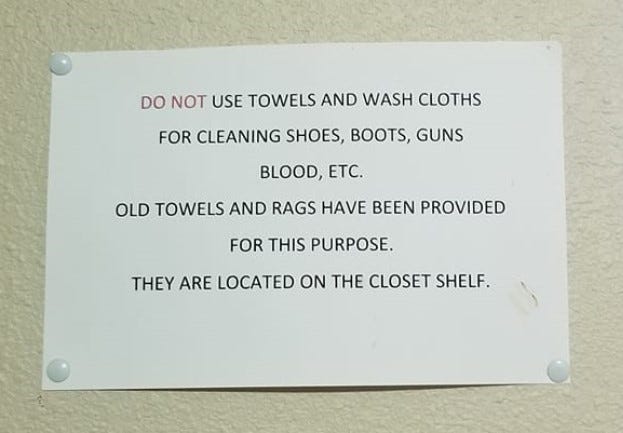 The next day, back at the park, we set off on a longer, unguided hike down the Canyon Ridge Trail, set to culminate at the Rio Grande with a view across the canyon to the Panther Cave pictograph site as well as across the river to Mexico. As the only hikers on the trail we were treated to solitude, incredible vistas, and a noticeable lack of extraneous sound. No air conditioners humming, no construction sites banging, no interstates whining, no leaf blowers blowing, no horns blaring, no sirens shrieking. At home, we are accustomed to a constant racket, but out here, with no human development nearby, the lack of aural distractions allowed your head to clear and then you could really listen to the wind whipping through the canyons, the birds rustling in the underbrush, and even the crunching of your feet on the limestone trail.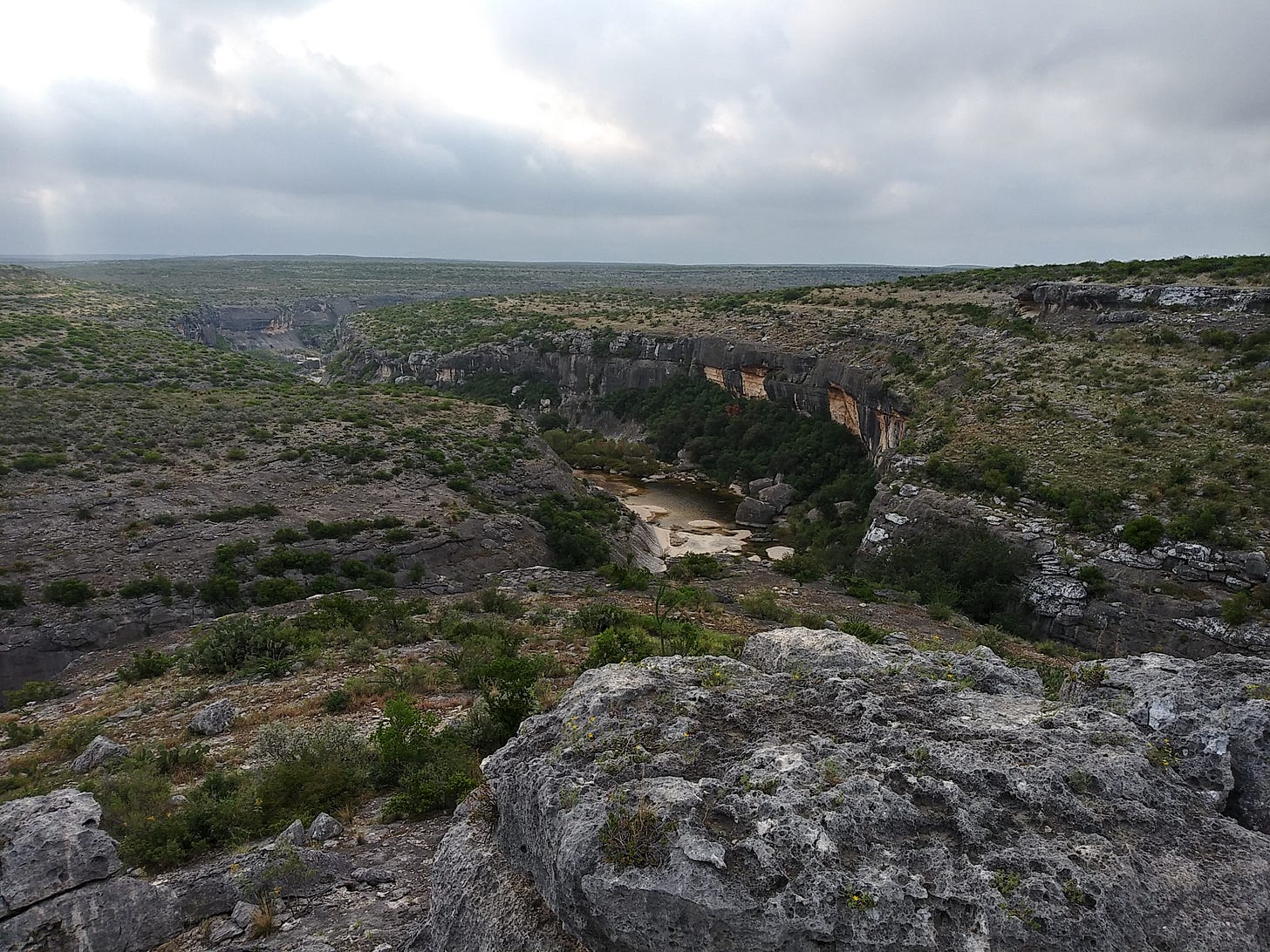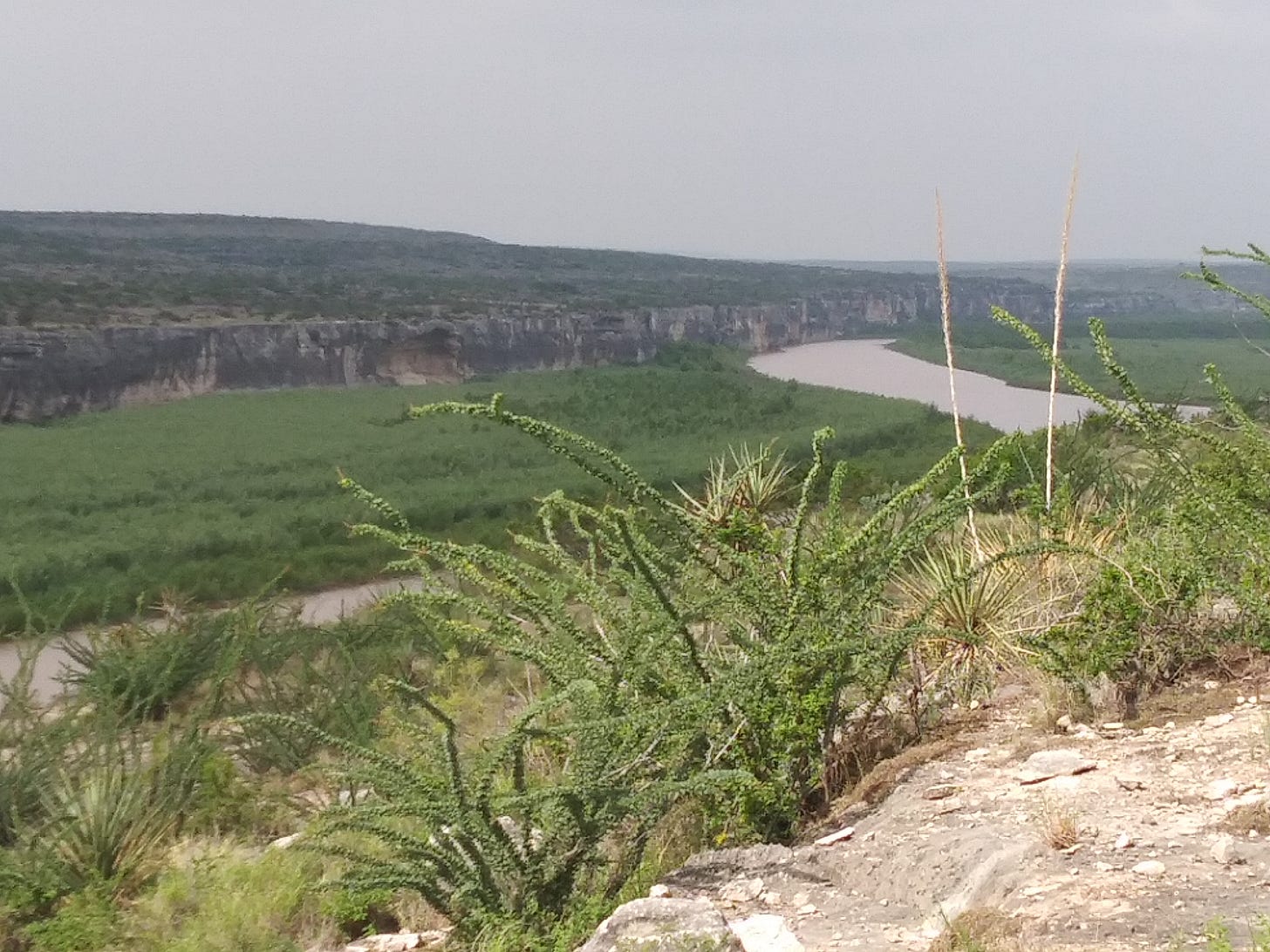 Reaching the trail terminus at the Rio Grande, we scanned the river east to west. There, so close, was Mexico. Thousands of years ago, native people inhabited rock shelters all across this region. As we strolled back up the trail, I considered the legacy of these peoples and this land. Were these shelters not also ghost towns, akin to the one we passed in Juno? Places where the people have moved on, but their artifacts and stories remain.
As we cleared a small hill, I turned to gaze across the majesty of this remote spot, so far away from our day-to-day and yet precisely where we needed to be. The light was soft, the sage still in full regalia. At that moment, my eye caught it. In the sea of purple, the white blossoms popped out.
We'd found one! It was an elusive White Cloud, the 'albino' cenizo, a reminder to keep yourself open to new explorations and to celebrate the ghosts always in our presence.